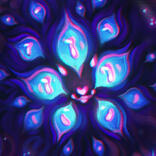 kem @ aethermancy || commissions
welcome! ||current commission status: closed!last updated: jul 12 2022
---
how to orderWhen commissions are open, I will announce the opening on my twitter, deviantart, and discord. The window will be open for a certain period of time during which a google form can be sent to me! I will choose commissions from the set to complete. If you aren't chosen the first time around, you can always reapply later!
commission types: standard
---
you may choose from these commissions for general slot openings!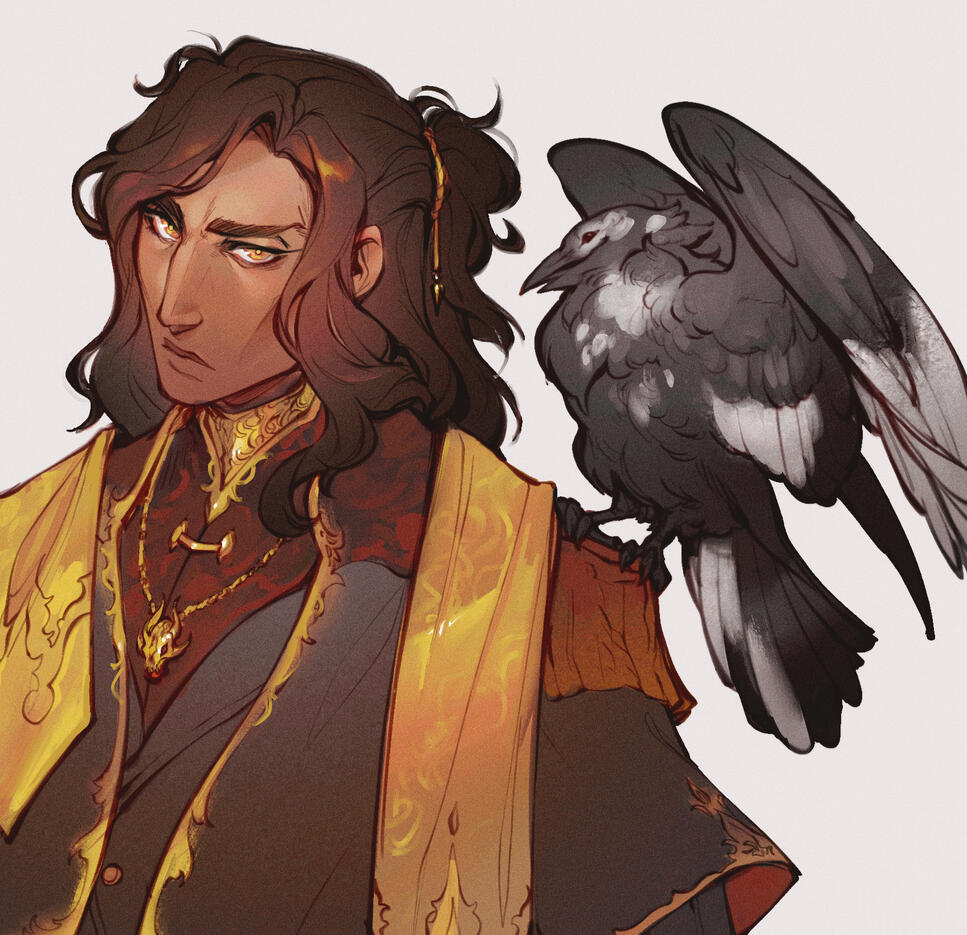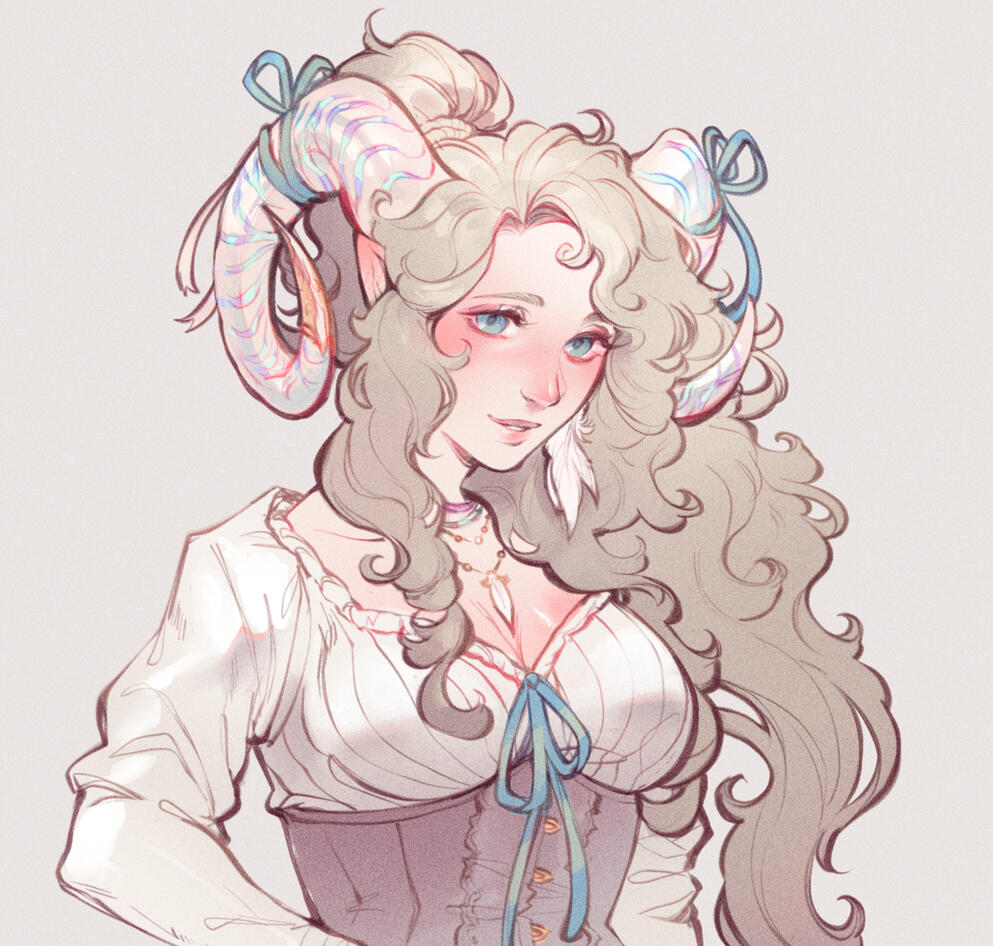 ---
clean color ||lineart with flat colors and small painted details.BASE PRICES
portrait $200
fullbody $300ADDONS AVAILABLE
all standard addons except painted bg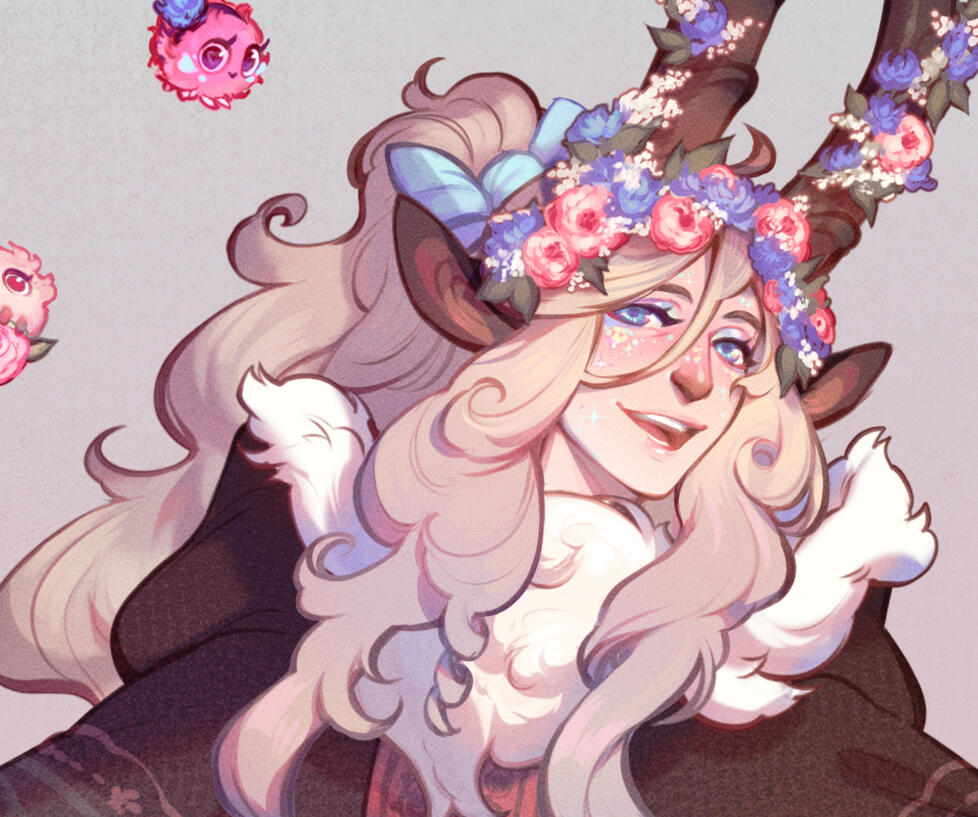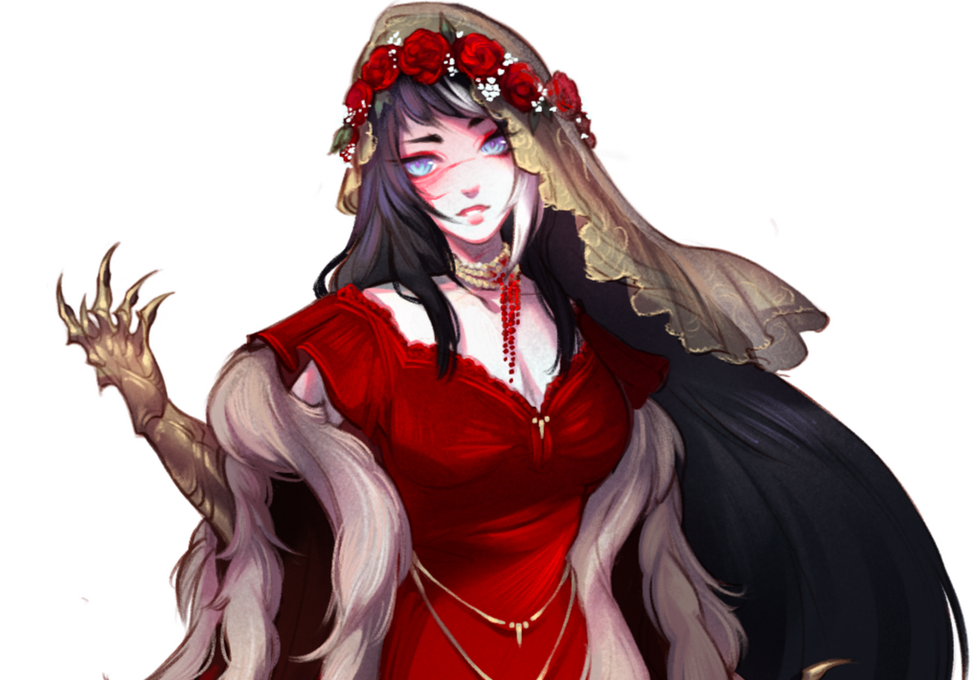 ---
painted lines ||standard style. lineart with shading and painterly rendering.BASE PRICES
portrait $250
fullbody $350ADDONS AVAILABLE
all standard addons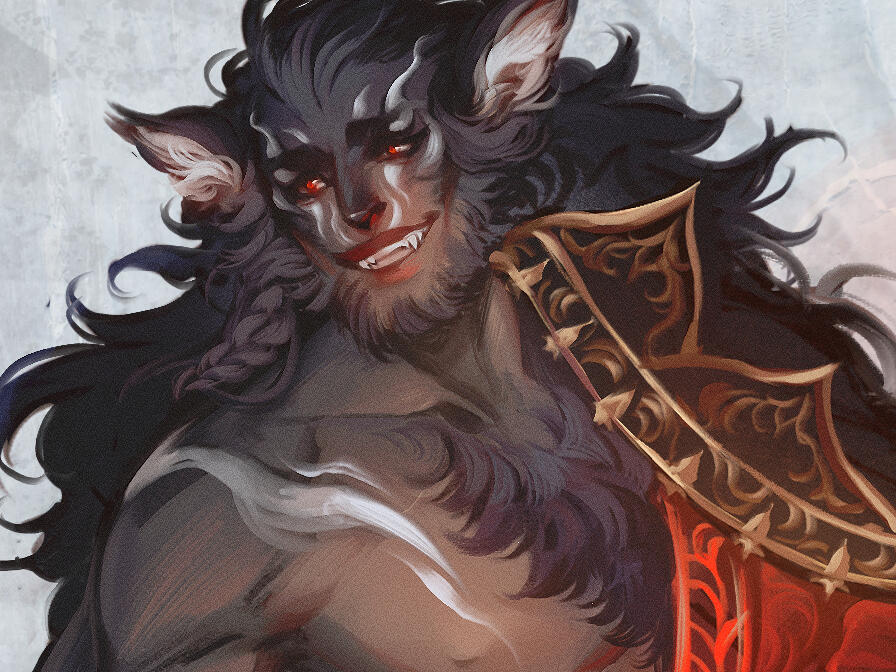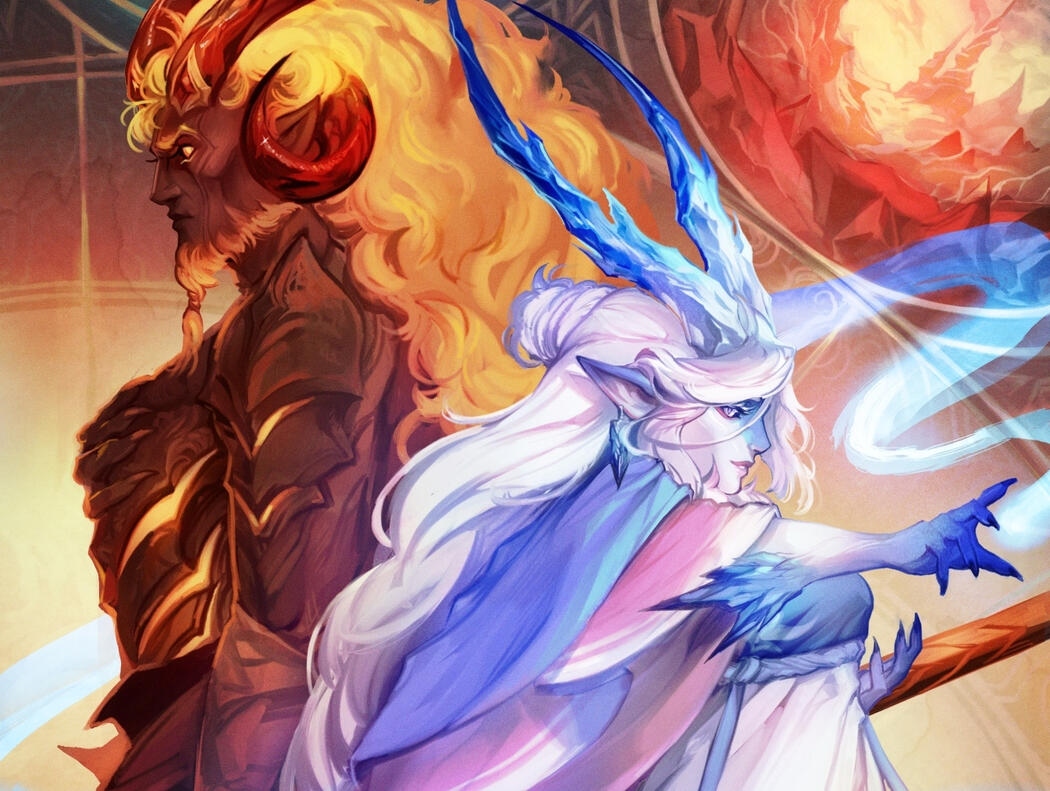 ---
fully painted ||detailed rendering with minimal or no lineart.BASE PRICES
portrait $250
fullbody $350ADDONS AVAILABLE
all standard addons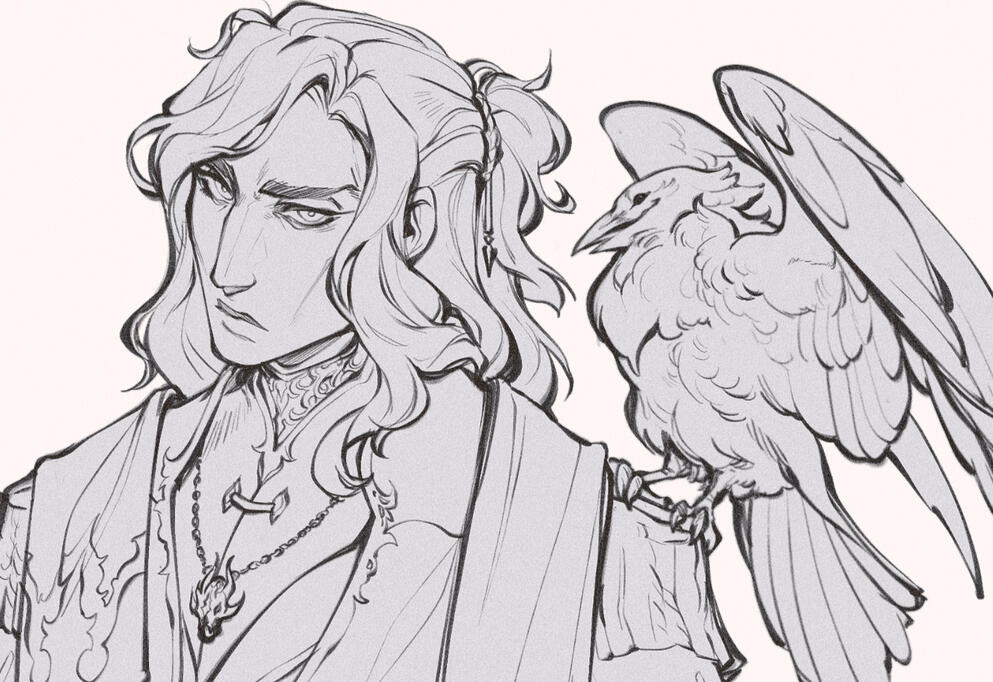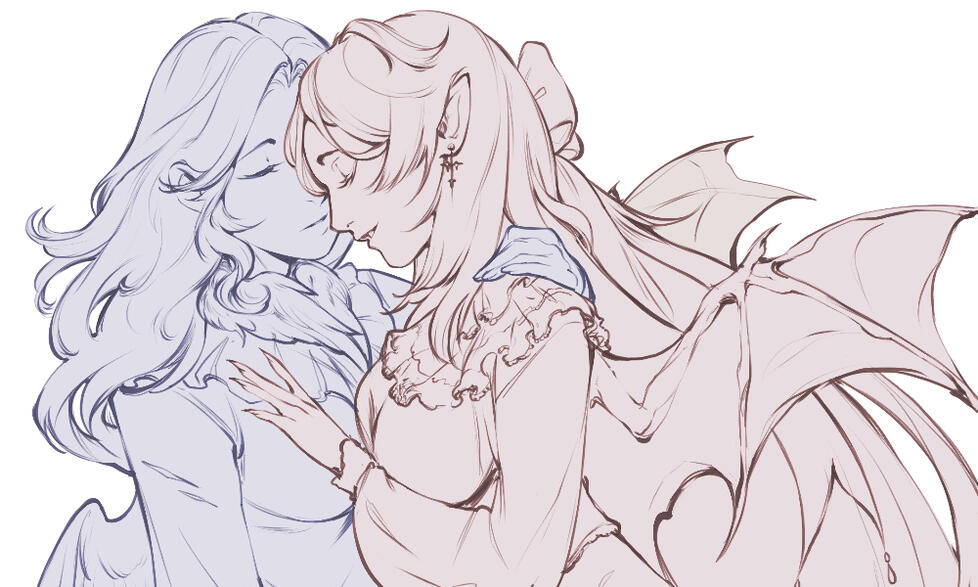 ---
lineart only ||clean lineart with a simple papery background + light color fill.BASE PRICES
portrait $150
fullbody $225ADDONS AVAILABLE
all standard addons except bgs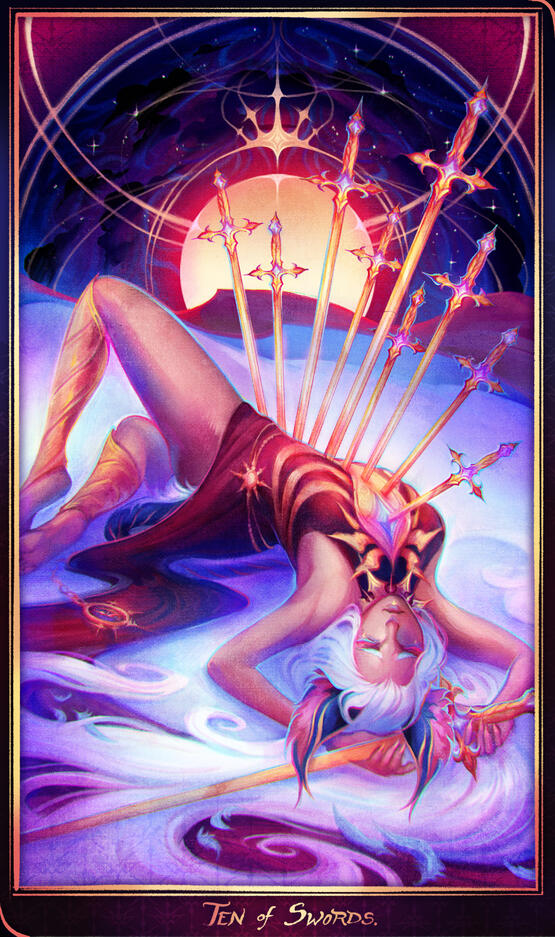 ---
tarot card ||
a stylized card-like painting, with a dramatic pose, detailed frame and symbolic elements. choose painted lines or fully painted style. includes up to 2 characters and your choice of 2-3 major symbolic elements you'd like incorporated into the card. an existing tarot card and its symbolism can be embodied in the artwork!tarot card $400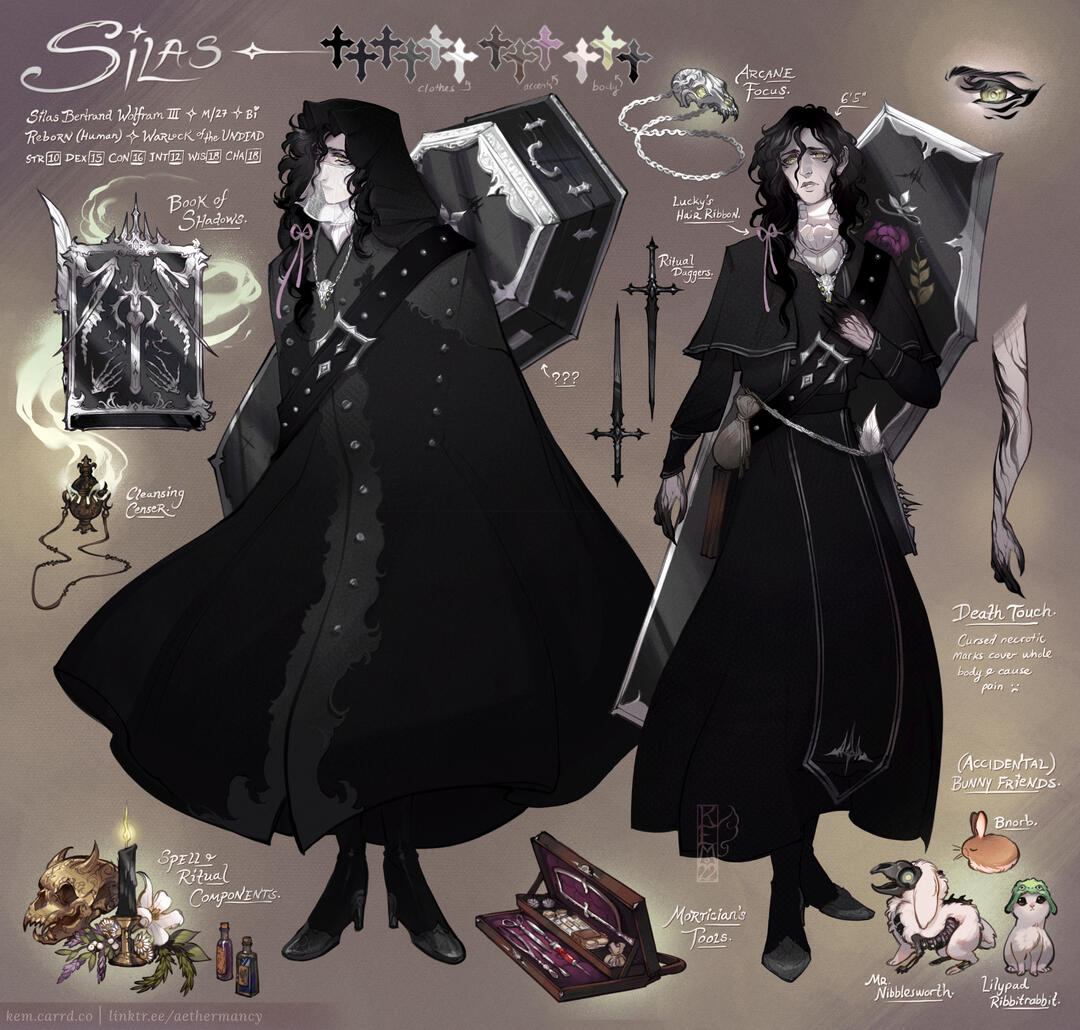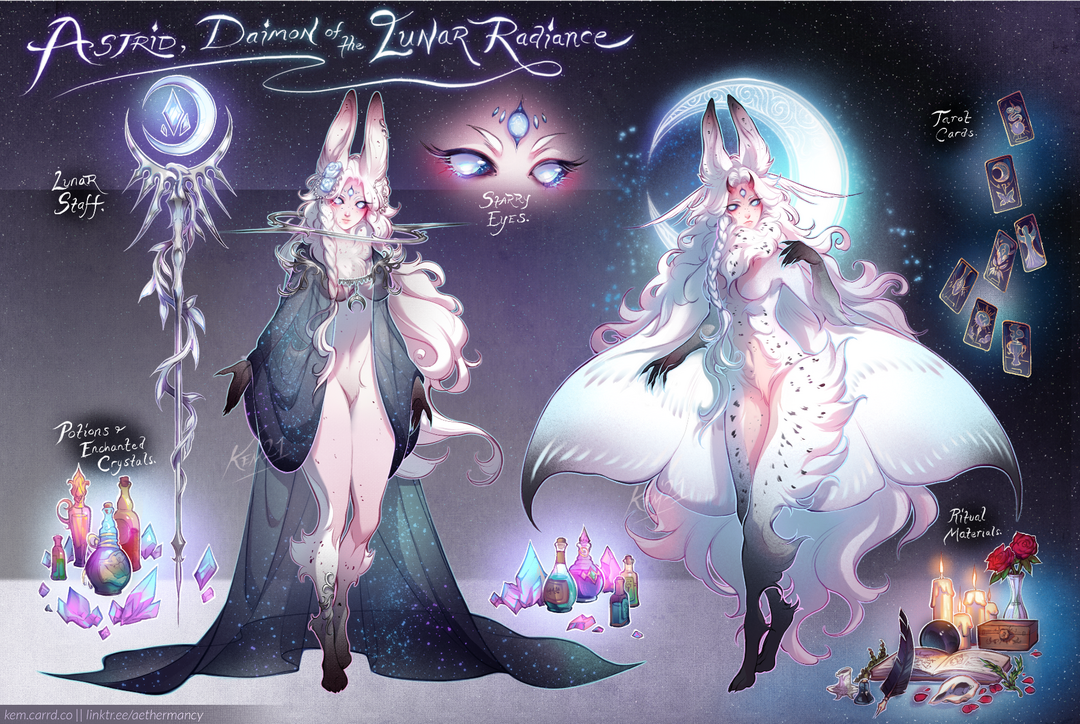 ---
ref sheets and character designs ||
minimum of 1 fullbody illustration in clean color, painted lines, or fully painted styles. these can be of custom (new) characters or existing ones!
Please see my Terms of Service for rules about custom character designs.
BASE PRICES
design levels see custom character designs
main illustration (required) price of standard fullbodyADDONS AVAILABLE
see ref sheet addons
commission types: special
---
these commissions are only available during special slot openings for each type of commission. i will clarify what kind of commission is available!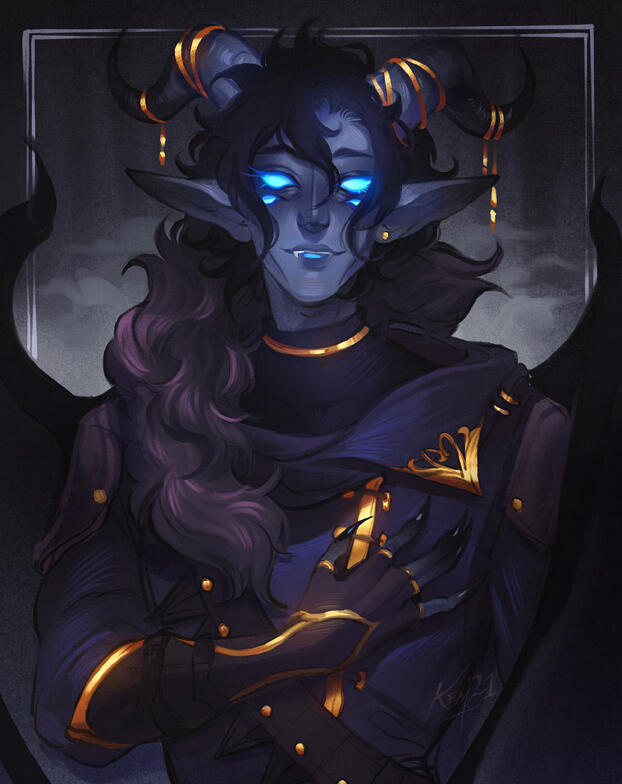 ---
special: warmups ||
experimental, sketchy portraits with a stylized background.these open on occasion, and are completed in between other work, so turnaround time may vary.these are surprise commissions and WIPs are not normally given out, but minor edits will be corrected!warmups $200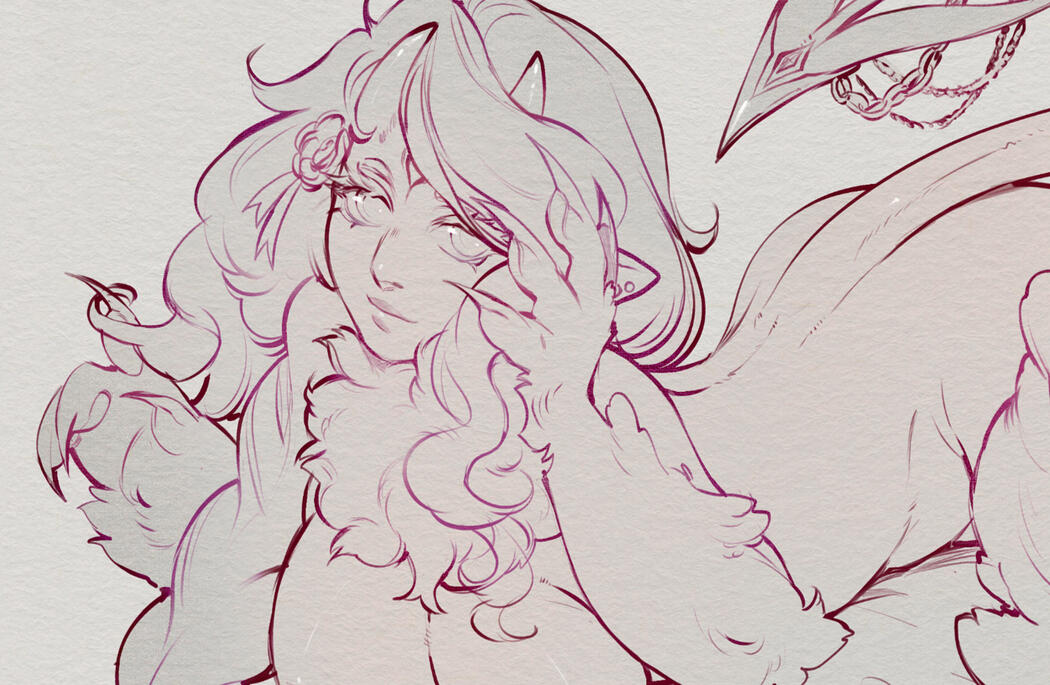 ---
special: nsfw ||
commissions featuring adult material!these may be done as any standard commission type, but if only certain types are available I will mention in the slot openings!nsfw base price +25%
nsfw couple base price + 75%
general addons ||
---
+ complexity up to +50% base price
for characters with very elaborate body parts, props/weapons, or outfit designs. i only charge complexity for exceptional cases!+ couple +75% base price
two characters posed together - two separate character images count as two commissions.+ companions +25% base price
familiars, animals, steeds, or entities that accompany the character.
- smaller than a cat: up to 4 creatures
- cat to medium dog sized: up to 2 creatures.
- larger than a medium dog: 1 creature.
- very large/detailed companions may be an extra price!+ frame or simple background + $50 (+ $25 for portraits)
a softly painted, subtle background or a painted frame.painted background + $100
a painterly landscape reflecting the character's aesthetics and colors, or a location of your choice. you will also receive a separate image of the background!
ref sheet addons ||
---
ref sheets include all of the above addons, as well as the following:+ portrait +75% base portrait price
available in clean color, painted lines, or fully painted style!+ additional fullbody +75% fullbody price
a second fullbody on a different pose. this can include an alternate form of the character, a second outfit, etc.+ unclothed version $50 per fullbody
a version drawn without clothing of one or more fullbody images. separate files will be included. you may choose SFW or NSFW versions.+ extra outfits $100 each
for alternate outfits drawn on the same body pose.+ body details $50
closeups of body parts like eyes, teeth, claws, flesh and bones, nsfw parts, etc. includes 1-3 closeups depending on detail level.+ inventory $100
2-5 smaller item references and 1 larger/more detailed item.+ color palette free!
custom character designs ||
---
custom character +50% base price
a completely new character, designed by me to your specifications! characters that do NOT yet have custom artwork owned by you (such as moodboards, descriptions, or loose references) fall under this.if the character belongs to one of my Aetherverse species, please contact me in advance as pricing will vary by traits.character redesign +varies
for characters that already have existing art, but are being significantly updated/redesigned. Characters from game screenshots fall under this if you are commissioning a 2d reference for them. Price depends on the amount of new design work I will need to do!pre-existing character base price
for characters that already have complete art references, and are NOT being modified besides very minor changes.commercial rights +varies
if interested in using this character or artwork for commercial projects, merch, etc, please contact me privately to discuss extra pricing and/or royalties.
terms of service ||
General Rules
---
In order to purchase a commission or character design from me, you must agree to the Terms of Service outlined on this page.- When you fill out and submit your commission order form, accept a final quote for a commission, or purchase a pre-made character design from me, you agree to abide by the rules written here.- Failure to follow these rules may constitute a strike or ban from future commissions and sales by me.- Clients must be over the age of 18 and have a valid contact method, PayPal account and email address. I do not interact with nor do business with minors online, and deception or violation related to this rule will constitute an immediate ban from all future interactions.- My commissions may include artistic nudity. Commissions of explicit NSFW material are opened separately - standard commission openings are NOT for explicit material beyond artistic nudity.- For NSFW artwork, I do not accept prompts involving characters that are, appear to be, are roleplaying as, or are alternate versions of minors. My NSFW commissions and designs are not to be given, traded, sold, or redistributed to minors.- I do not accept prompts involving explicit content that I am not personally comfortable with. For a complete list of my do's and don'ts, you may contact me privately before sending in a NSFW prompt.- I do not accept prompts that heavily reference copyrighted images, characters, color palettes or artwork that you do not have permission to use for this purpose. These images may be included as very loose reference, but I will not directly copy any exact colors, themes or design elements from images that I do not have the right to replicate.
Ordering Commissions
---
The Artist (Kem Mackey)'s commissions are custom-ordered pieces of artwork to be completed for the Client (you) according to the Client's specifications in the Order Form linked on the order form page, and subsequent written communications.When commission openings are made available, to order a commission you must submit a filled-out Order Form before the open period ends. During that time, the Artist will select commissions from submitted Order Forms. These are NOT first-come-first-serve and not every commission may be chosen; if you are not picked and a specific reason isn't given (such as an invalid/rejected prompt), you are free to re-submit this request when commissions reopen at a later date.The Artist reserves the right to reject a submitted commission request or prompt for any reason.If your Order Form is chosen, the Artist will contact you via the preferred contact method given with a quote for the commission price and/or any questions. The quote is estimated based on the Artist's understanding of the prompt, level of complexity, and details requested; it is not final and can be negotiated. You may not change your main commission type (fullbody, portrait, ref sheet, etc), but you may add or remove addons, references and other written details during this time, within reason. Once a final quote is agreed upon, the Artist will send a request for payment as per your stated payment method and plan/s.For special commission openings, such as Surprise Warmups, slots are claimed on a first-come-first-serve basis, with further details included on the opening post. Should you successfully claim a slot, you will be sent a special Order Form for the details of these commissions. The same payment process applies, but special commissions may or may not include a WIP phase or allow payment plans.
Commission WIPs and Edits
---
Once payment has been agreed upon and completed to your agreed payment terms, the Artist will attempt to send a work-in-progress image (WIP) of the commission to the Client no later than 90 days after the listed payment date, unless a special circumstance is discussed in advance and agreed upon by both Client and Artist. This WIP will be sent via the last used method of written communication with the Client, or otherwise the Client's preferred contact method listed in the Order Form. Should the Artist fail to attempt to send a WIP to the client after 90 days have passed, and no other circumstance has been agreed upon, the Client reserves the right to request a full refund of the commission.Once the WIP has been received, you may request up to two major edits and up to three minor edits during this time, as well as request any corrections on the Artist's part. Major edits fundamentally alter the artwork, such as a complete redraw of a pose, color palette, or composition. Minor edits are features that do not require a fundamental change to the sketch, such as an altered expression, some swapped colors, edits to patterns or clothing, or adding new details. Mistakes on the Artist's part are corrected without limit. Examples are adjustments to faces and hair to better match the Client's prompt/references, missing items and details that were included in the prompt, and anatomy fixes. (Missing details that were not mentioned in the Order Form prompt or written communication will count as minor edits, so please include all important information beforehand!)Once approval has been given by the Client in writing, the Artist will complete the commission within 90 days of WIP approval, and attempt to send the finished full-resolution artwork and files to the Client via the Client's preferred communication method. Should the Artist fail to attempt to send the finished work to the client after these 90 days have passed, and no other circumstance has been agreed upon, the Client reserves the right to request a full refund of the commission.If the Artist needs more time on either 90 day deadline, the Artist will contact the Client within 60 days of payment date or WIP approval to provide a reason and the Client may choose to give written permission to extend the deadline by a discussed period of time. The Client has the right to decline this extension for any reason.Upon receipt of the final artwork, the Client may request one further minor change if needed, and any number of mistake corrections. Once the final artwork is approved, the commission is considered complete and no further changes will be made.
Purchasing Adoptables and Custom Character Designs
---
Adoptables are pre-existing illustrated character designs to be purchased by you for your own personal usage and ownership. You may use this character design for any personal projects, such as non-monetized TTRPG gameplay, roleplay, worldbuilding, and so on.Custom character designs are created from scratch by the Artist to the Client's specifications.The Client is free to edit and modify character features and traits, including changing the character's body type, species, race, appearance, colors and details. If the character belongs to a "closed species" - a species with pre-specified, restricted traits and lore belonging to the Artist's or another creator's fictional universe - editing of the character design is dependent on the rules of that species.
Payment Methods
---
I currently only accept payment via PayPal Invoice for my commission and character design work; invoices are sent in USD. This invoice will be sent to the email address given in the Client's Order Form or written communication.The Client may choose from the following options for payment:
- Payment of the full amount upfront (Default unless otherwise discussed);
- For commissions (excluding special first-come-first-serve commissions), payment of 50% upfront and the remaining 50% after you receive and approve of the WIP.
- For commissions and adoptables, payment plans are available for purchases of $300 USD or more: the default plan is 30% of the total amount paid upfront, with the rest due within 30 days of invoice receipt. This plan is negotiable, and longer payment periods are available for larger purchases, but the Artist reserves the right to decline a payment plan request.
- For larger or longer term projects, such as freelance work, other payment methods may be discussed!The Artist will then send an invoice in USD via PayPal to the Client's given email address. The Artist reserves the right to reference this invoice, including invoice number, Artist and Client's listed contact information, payment amount/amount due, and invoice creation/due date should an issue arise.Payment of this invoice is to be made upfront unless a different payment plan has been discussed in writing prior to the invoice's creation date. Upfront payments should be made within 48 hours of receipt, otherwise the commission slot may be forfeited. If more time is needed, the Client should notify the Artist at least 24 hours in advance.Unless another payment option is agreed upon in writing by both Artist and Client, the Artist will only begin commission work once full payment is received.
Usage + Rights
---
The Client may freely use, edit, and share the WIP and final artwork commissioned for them, for any personal (non-commercial) use or projects. Should the Client share, edit or repost the artwork publicly, the Artist requests credit given in the form of a link to one of the Artist's social media profiles, or the watermarked version of the image is clearly legible.Usage and redistribution of the artwork is not permitted by anyone but the Client who commissioned the artwork, unless otherwise agreed upon by the Client and Artist.Usage of my artwork, including commissioned pieces and character designs, for commercial projects, merch intended to be sold for monetary gain, in monetized streaming, video or social media platforms, or other business ventures is not allowed unless otherwise discussed and agreed upon in writing by both Client and Artist beforehand. The Client is normally expected to discuss commercial rights and pricing prior to purchasing a commission or character design, but the Client may contact the Artist about commercial use in the future, as long as the Client accepts that pricing may change over time.Commercial Pricing: The terms and pricing of commercial artwork are to be discussed privately between Client and Artist, and pricing varies depending on the scope, budget, and expected audience size and/or profits of the final project. Generally, a rough average or starting point would be a 50% to 100% increase in the artwork price, or a smaller upfront increase along with an agreement to share a portion of profits generated directly from the artwork in the future. This is subject to change in the future or for much larger or smaller projects.Lastly, the Artist reserves the right to use the artwork from commissions or character designs for personal promotion and portfolio purposes, unless otherwise discussed. The Artist will never re-sell or otherwise reproduce the artwork for direct monetary gain, nor revoke the Client's usage rights for any reason once agreed upon.
Trading and Selling Artwork and Character Designs
---
The Client may trade, gift, or resell my commission artworks or adoptables for any price. The Artist only requests that if the original commission or character design was given as a free gift, that the Client not resell or trade the original artwork or character design for monetary value.Should the commission be of a character belonging to the Client that is later traded, sold, or gifted to someone else, the recipient gains the Client's original usage rights, and the Client no longer possesses those rights. The Artist requests that the commission artwork or character design be bundled with the character when ownership changes (not kept by the original owner separately).Unless the Client has been granted commercial usage rights, the Client may not redistribute or sell copies of the artwork for commercial use.